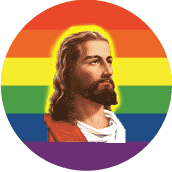 I know I'm a posting maniac today but I couldn't resist passing this little gem on. Seriously shit like this makes me want to give a big fat finger to Christians.
Love God's Way Ministries
has a list of bands that are "gay or propagating a gay message." According to the website, people can catch "gayness" through song. Duh. I mean the first time I heard "(I Can't Get No) Satisfaction" by the Rolling Stones I realized I love women. Satisfaction....oral sex....vagina...come on now, the message is obvious.
The website states, "One of the most dangerous ways homosexuality invades family life is through popular music. Parents should keep careful watch over their children's listening habits, especially in this Internet Age of MP3 piracy."
Notable gay-loving offenders include: Metallica? Kansas? Ghostface Killah? Lil' Wayne? John Mayer? Ok, I'll give them that one. You can check out all the offenders
here.
Thankfully they have also provided a list of
"safe bands,"
and while they may not be propagating a homosexual lifestyle many of them will make your ears bleed.
*Update*
- Thanks to a loyal unibloggal
reader
I have recently been informed that the Love Gods Way website is a fake. In fact its a parody and quite a brilliant one I may add. You can learn all about the man behind the hoax
here.